Cecilia Whittaker-Doe: First SRO Gallery Exhibit Runs To May 26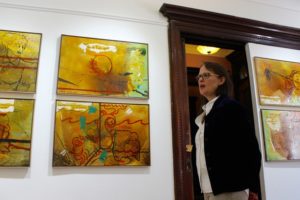 The artwork of Brooklyn-born painter and muralist Archie Rand is the first showing at Cecilia Whittaker-Doe's SRO Gallery (1144 Dean Street). His work: Eugenio Montale: Men Who Turn Back is based on the work of Montale, an Italian poet. Archie created a painting for every line of the poem  — all 24 of them — fitting perfectly into the showing space.
Cecilia says the gallery is named after the real estate term "single room occupancy." That's because her North Crown Heights neighborhood is filled with buildings that, at one time, had been converted to that status so that landlords could legally rent out single rooms. Cecilia and husband Don bought the building about 15 years ago and had been using it for rentals, and now the front room is exclusively reserved for the gallery. Rand is an artist she greatly respects, "for the work he has done and the person he is."
She has two more shows lined up after this, in June and September; both will run anywhere from 4-6 weeks (check back for more info). Pastor Meeter attended the gallery's opening and offered a blessing; attendance and response so far have been amazing.  Cecilia, an artist herself, has her own work displayed in a gallery in Chelsea.  Make sure you check out the SRO website and swing by to enjoy Archie Rand's exhibit. It runs until May 26 — hours are Saturday and Sunday from 1-6 p.m., or by appointment.
Click here for more info.
Click here to read about the May 2016 Archie Rand exhibit on DNAinfo.com.