Kids@OldFirst Arts and Yoga Week happens April 10-14
The Seed is the Word: Old First Arts and Yoga Week for Kids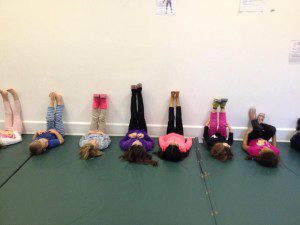 The Old First Summer Arts Week was founded in 2004 with generous grants from the Reformed Church Regional Synod and Brooklyn Classis by dancer Jenny Burrill and artist Celilia Whittaker-Doe. Continuing support has enabled this uniquely inspired arts week to be offered (mostly) free of charge to the community at large. More recently a registration fee of $125 for the week has been applied to help offset rising costs.
Open to ages 7 thru 13, we value kindness and respect across the age range. We are excited to offer this week in the Spring hence our new name: KIDS @ OLD FIRST Arts & Yoga.
We adopted our theme 'The Seed is the Word' from a stained-glass window in our historic sanctuary. Together we create new ways to discover, explore and express the gift and mystery of a seed.
YOGA & MOVEMENT: Jenny Burrill, founding director
Through yoga postures, music, movement, and being still, participants experience self awareness, intuitive knowledge and inspired personal expression. This in turn informs our day for building community, making art, and creating a group 'performance piece'.
Learn more about Jenny and Breathe Deep for Kids.
VISUAL ARTS: Cecilia Whittaker-Doe, founding director
Cecilia offers her expertise as a devoted professional artist. Drawing, painting, collage, and journaling are some of the techniques presented for individual self expression. Participants create a communal piece such as a large painting, table cloth or flags as seen in the photo above.
To learn more about Cecilia visit her website: ceciliawhittaker-doe.com
FEAST Traditionally a healthy hot lunch and snack prepared by senior attendees is shared by all. We ask that lunch be brought by the child. A healthy snack will be provided. Please let us know if your child has any allergies.
The week culminates with an informal Sharing of performance, art making and some healthy snacks for family and friends!
To register for KIDS@OLD FIRST Arts & Yoga Week 2017 please email breathedeepforkids@gmail.com/subject line: kids@oldfirst2017
Fee: $125 for the week. Bring lunch — a snack will be provided.
Click here to find out more.