It's A Big World, Baby: Read All About It In Jenny Burrill's New Book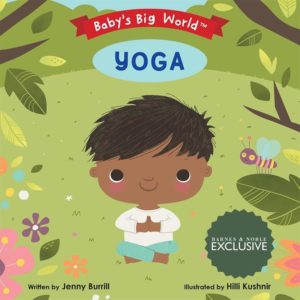 Old First Vice President (and resident yoga instructor) Jenny Burrill has written Baby's Big World: Yoga, for the popular Barnes & Noble children's book series.
The books in this collection — which include subjects like music, chemistry, and even the U.S. government! — are meant to be read to babies (however, don't let that stop you if you are in a more advanced stage of life). Jenny's yoga book introduces basic but "advanced" concepts of yoga and breath in a fun and playful way.
The objective: an invitation to say, "hello" to your body.
​"Yoga is exercise that is reflective and mindful," Jenny says. "It introduces kids to concepts of self awareness, gratitude, and doing their best.  Yoga and mindful breathing can help boost confidence, the ability to focus, and even enliven a good sense of humor."
Jenny has been teaching preschool yoga for 20 years, and has a good idea about what works for kids.
"The editor and I went back and forth a bit until we were both happy with the message and sentiment," she says. "Then I was asked to advise the illustrator.  It was fun and rewarding and I'm delighted to see the book published."
In fact, Jenny practices what she preaches: she's using the book while teaching. And let's all take a moment to appreciate the extreme cuteness of that book cover.
Jenny's feeling inspired — she's at work on a second book, Breathe Deep 4 Kids. This time, the subject is geared toward grade-school children.
"It takes a nice, long look at the benefits of mindful breathing," she says. "The book includes four steps, each one offering a poem and practice set."
Jenny is still in the process of finding an editor for this one, but the success of her baby book should be very encouraging.
Click here to purchase Baby's Big World: Yoga.  And stop by Old First and take Jenny's weekly yoga class (no experience needed)!