Jeffrey Mandelbaum: A Countertenor's Beginnings
"They said, 'Do the scariest thing in the world for you.' For me, it was singing in front of other people. But I think that experience propelled me."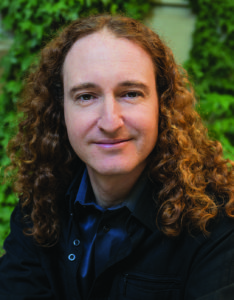 That prophetic statement comes from our favorite countertenor, Jeff Mandelbaum, as he recalls his early days at a Wesleyan summer program at The Center for Creative Youth. Yep, he faced his fear and the rest is history.
By the way, a countertenor is an English term from the 17th century, describing a type of classical male singing voice whose vocal range is equivalent to that of the female contralto or mezzo-soprano voice types. If you attend our Christmas or Easter services, you're fortunate to hear Jeff bring this gorgeous gift to life. It's always a highlight for us, and an interesting fate for a local boy who grew up on Union Street.
"In junior high into high school, I was very clearly a visual artist," he says, but his undeniable vocal talent had other plans for him.
"I never thought I was interested in music at all — certainly not classical music," he says. "I was into pop music, Top 40 stuff in the '80s."
He's referring to artists like Steve Winwood, Peter Gabriel, and Robert Plant, with very rare, high voices. You have to use your upper register to mimic them, and Jeff had that to the tenth power.
But first, dance, at that summer program.
"That first dance class propelled me into the person I am," he says. "That was the same summer that The Dead Poet's Society came out: seize the day. Carpe diem. It's like I became a new person. Rather than being a kid, I became a young adult and started thinking in a totally new way that summer."
Next logical stop: the school musical. The school: Friends Seminary in Manhattan. The show: Guys and Dolls.
Jeff showed an interest, and also a fear. Auditioning was not one of his strengths, but his junior high needed some older Guys for the play.
"I went home and played the Motown version of Guys and Dolls, which is a very odd thing," he says. "'Sit Down, You're Rocking The Boat' is a song I really liked."
The director of the show — and the head of the performing arts department — was a vocal coach and a real voice builder. She saw — and heard — something in Jeff, the culmination of which we experience when we hear him perform at Old First.
She wisely took him under her wing. That vocal coach — Linda Monssen — is Jeff's mentor to this day.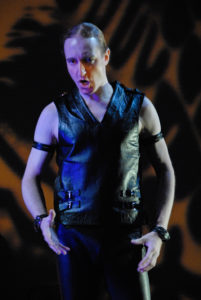 "Working with her on the show was the beginning of something totally fascinating," he says, "exploring how the voice moves, works and functions. Her approach is very organic. She follows the voice where it wants to go. It was delightful for me. That was the basis of everything I did for many years."
Regarding Guys and Dolls: Jeff rocked the boat. Next year: Godspell.
In college (Oberlin), he majored in interdisciplinary performance, but his unique talent pegged him as, well, a square peg.
"They didn't know what to do with me," he says. "At that point, they didn't know what a countertenor was. It was this very rarified, almost extinct creature. They tried to mold me into what opera singers sounded like, and I was very resistant to it. So Linda and I wound up doing summer intensives. Our working relationship became my motivating force."
How his love of opera began: his continuing education with Linda Monssen.
"What we worked on is what all beginning singers work on: Italian baroque arias," he says. "There is a songbook of 24 Italian arias that all young singers do. That's the entre to singing, always."
He also got a handle on Handel.
"I got into Handel because The Messiah is omnipresent at Christmastime," he says. "I actually found an LP box set of Handel's Messiah on the street in Astor Place in the early '90s. That's what led to my double passion for opera and records, which has become a huge part of my psyche as a vinyl collector. It was like providence."
Thus began the next phase of his musical evolution, and maturity.
"Even though I wasn't a music major, I realized that was the thing that was the most compelling," he says. "I was moving from this broad, interdisciplinary realm into a very small, specific, narrow focus: countertenor singing. But I came to realize that it's actually an enormous realm that would take me ten lifetimes to explore."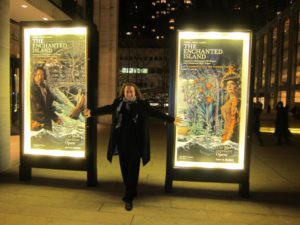 Those intensives led to an amazing career, including his debut at the Metropolitan Opera in The Enchanted Island, singing the role of Ferdinand in a series of performances alongside opera superstars Joyce DiDonato and Plácido Domingo, and under the baton of William Christie. He has been hailed as a "first-class countertenor" by The Washington Post. He made a double Alice Tully Hall debut, singing Bach's Magnificat with the American Classical Orchestra, as well as Bach's Christmas Oratorio with the Riverside Choral Society.
Along with many triumphs and successes come many of the struggles that afflict all artists.
"I don't think there has ever been an artist who did not feel depression or frustration to one degree or another," he says. "And I think the most important thing to recognize is that there are very few people in opera or the arts in general who can support themselves fully. That doesn't mean if you don't get there, you're a failure. It's a life's work and if you can make money off of it, great, but if not, that doesn't mean you shouldn't do it."
Jeff walks the walk, and has made Old First one of his favorite performance venues (fortunately for us). The continuing gig came from a simple email from Jeff to Pastor Daniel Meeter, asking if there was a need for any countertenors during worship services. Jeff wanted to get that "sense of nerves," some pre-audition experience performing before a live audience. Daniel enthusiastically told Jeff to come on down.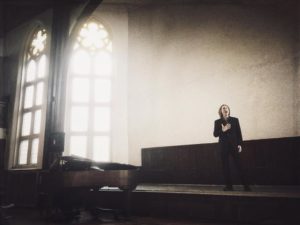 "It's an ideal relationship, as far as I'm concerned," Jeff says of Old First. "It was a relationship of convenience at first, but it has really become a passionate connection, especially when I sing at Easter and Christmas. There is an extraordinary fulfillment that happens."
In the meantime, Jeff continues to explore the places and experiences his career takes him.
"They always say don't sing opera if you don't have to, that's it's too challenging," he says. "That may be true. I kind of fell into it, as the story goes, but as a countertenor, I didn't have any competition really, and that propelled me, that drove me, thinking, 'I can do that.'"
Click here to find out more about Jeff, and check him out this August at New York's dell'Arte Opera Ensemble.