May 20 at Old First: NY Landmark's Sacred Sites Event
You may have heard the old story that most native New Yorkers have never been to The Statue of Liberty. The punchline: the most iconic, breathtaking landmarks are often overlooked by the local gentry.
Old First — Park Slope's version of an iconic, breathtaking landmark — is opening its doors to those who may have not yet taken the time to be amazed by its awesomeness. It's part of the NY Landmarks' Sacred Sites event on May 20, where neighbors and tourists can experience the vast beauty of our worship space.  Also up for sharing: all the important social and cultural programs we offer.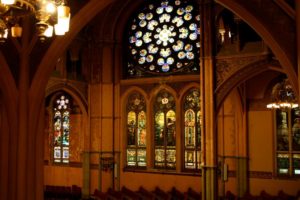 The takeaway: Old First benefits not just its members and worshipers, but the entire community. And, of course, our doors are always open, even after May 20.This tour has been a beloved annual tradition since 2011 — congregations throughout New York state welcome those interested in art, architecture, history, religion and local flavor. It builds community support and recognition of historic institutions.
The New York Landmarks Conservancy, which sponsors the event, says that developing cultural tourism is the key to the future of sacred sites.
The event set records in 2016, with 169 participating sites (68 within New York City) opening their doors to over 8,000 visitors.
The New York Landmarks Conservancy was established in 1973, when New York was uncertain about its future and not exactly protecting its past. The organization first consisted of a small, concerned group of architects, lawyers, planners, writers, and preservationists eager to save and reuse landmark buildings.
Early successes included saving the U.S. Custom House on Bowling Green and the Fraunces Tavern block, also in Lower Manhattan, restoring the Church of St. Ann and the Holy Trinity in Brooklyn, and converting the Federal Archive Building in Greenwich Village to residential apartments and stores.
As the Conservancy grew, it became one of the leading preservation groups in the country. Its programs have provided more than $40 million in grants and low-interest loans, accompanied by hands-on technical consulting, revitalizing neighborhoods and preserving the character of New York City for future generations.
The Sacred Sites Program was founded in 1986 (just as The Statue of Liberty was being cleaned!). The program was one of the first to offer technical assistance and grants to landmark churches, synagogues, mosques, and meetinghouses.
The Conservancy also publishes Common Bond, a national journal for historic religious properties. The same year, the City Ventures Fund was established to aid non-profit community development organizations in low- and moderate-income neighborhoods. Its grants and loans help convert non-landmarked, architecturally significant buildings into affordable housing and community service centers.
Click here to find out more about the event, and how you can get involved.