January 15 at Old First: Annual MLK Interfaith Prayer Service
Please join us Monday, January 15 at 1pm for our Annual MLK Interfaith Prayer Service, to honor the Rev. Dr. Martin Luther King Jr and pray for justice and peace in our world, nation, and borough of Brooklyn.
All are welcome.
RSVP on Facebook.
For more information or to volunteer, please contact info@oldfirstbrooklyn.org.

Welcome
Welcome to Old First Reformed Church, a community of Jesus Christ located in Park Slope, Brooklyn.  We welcome persons of every ethnicity, race, and orientation to worship, serve, and love God, and to love our neighbors as ourselves.  All are welcome!
Donate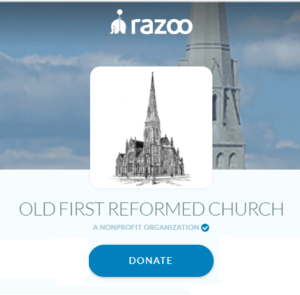 Services
Whether you're looking for a church home or just visiting, we welcome you to join us anytime.
SUNDAY WORSHIP is at 11:00 a.m. during the year, and at 10:00 a.m. in July and August.  Professionally staffed childcare is available during the service and we invite you to coffee hour after the service.
SUNDAY SCHOOL meets at 10:00 from Sept to May (2017-18 schedule here).
Volunteer
FEEDING THE HUNGRY For more than a decade, Old First volunteers have met one Saturday a month to cook and deliver a meal to a local soup kitchen. We can always use extra hands – contact us and we'll add you to the schedule.
HOST COFFEE HOUR Each week, a volunteer hosts Coffee Hour after the service. Check open dates and sign up here.
SUMMER RESPITE SHELTER Thank you to all who volunteered at our 2017 Summer Respite Shelter. We look forward to seeing you in 2018!
Search