Architecture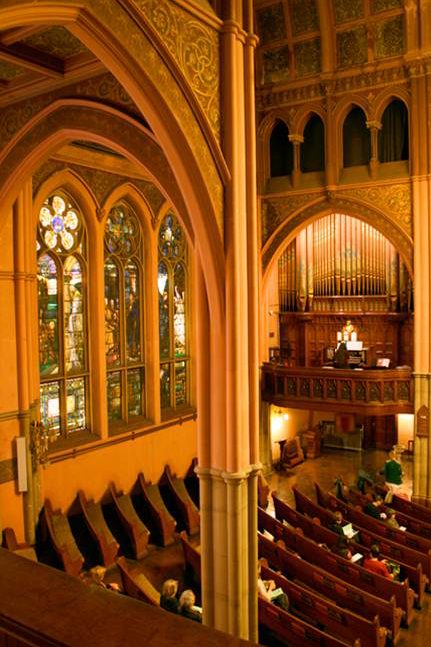 It is in Old First's sanctuary where one can be certain that the building was more than a commission, it was a creation of love.
In Old First, Morse designed a massive and impressive stone structure with a towering spire but it is the sanctuary interior where he pulled out all the stops to create a magnificent place of worship. In collaboration with craftspeople and artisans whose handiwork have graced the walls these past 120 years, this beautifully designed Gothic Revival sanctuary has been handed down to us directly from the congregation of 1891, for our enjoyment and safe keeping.
Facts about Old First, one of the most iconic and fascinating structures in Brooklyn:
Architect: George L. Morse
Dedication: 1891
Seating: over 1,000 people, originally in anticipation of large Easter crowds.
Steeple: 212 feet; the tallest live-stone steeple in Brooklyn. It contains no interior structure of wood or steel.
Sanctuary Ceiling: reaches 60 feet in height.
Pews: designed to follow the flow of the interior shape, constructed of the finest antique quartered oak available in the 1890s.
Mural: The Empty Tomb, measuring 14 by 21 feet, by the Italian artist Virgilio Tojetti, created in 1851. The work is a rendition of Luke's account of the resurrection.