Restoration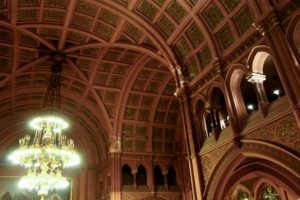 Our sanctuary has been closed since 2011, due to safety concerns after decorative plaster fell from our ceiling, while hosting our neighbors from Congregation Beth Elohim during 2011 Rosh Hashanah services.
Following our initial fundraising efforts and a period of congregational discernment, we have committed to a complete restoration of our historic sanctuary and building over the coming decade.  We believe in the importance of maintaining and developing our building as a great and unique space for our community and neighbors to find God, spirituality, and community in a crowded and clamorous world.
We look forward to sharing updates through our blog and Facebook page. To support this effort, please contact us or you may donate here.
In addition, you may read more about our restoration efforts here:
"A Church Seeks a Rescue." At Brooklyn's Old First Reformed Church, one of New York City's oldest churches, the sky is falling. Wall Street Journal, September 17, 2012.
"Collapsed Ceilings Lead to Big Mitzvah." After Shared Disaster, Beth Elohim Gives $15,000 to Church. The Jewish Daily Forward, June 4, 2012.
"Historic Church to Celebrate Easter Services at Synagogue." Brooklyn Daily Eagle, March 30, 2012.