Extended: Old First Pantry's Shelf Life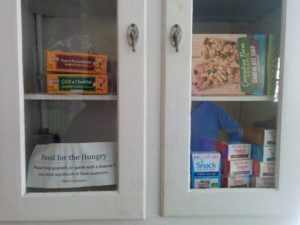 On your way to church on Sunday, don't forget to bring along some chow for our kitchen pantry. A deacon will kindly collect it from you and place it in our newly reopened cupboard. You can also see (and thank) Linda Larson, who graciously volunteered to coordinate this vital operation.
The pantry is a quick source of food for the neighborhood's homeless and hungry. Pastor Meeter and office manager Sandra Francois will regularly pull from it during the week, as needed. The more supply we have, the better, so don't be shy.
FYI: we always appreciate your generosity, but please be sure to bring food that does not require preparation, refrigeration, microwaving or cooking.
Many people often think of donating canned goods or perishable items (which is awesome), but we are specifically looking for healthy, dry snacks that could last longer and is easier to hand out, such as:
Energy bars
Protein bars
Granola bars
Fruit cups
Pudding cups
Dried fruit
Juice boxes
Milk boxes
Also: plastic utensils and napkins
All of this big-heartedness reminds us of a Bible verse: If you pour yourself out for the hungry and satisfy the desire of the afflicted, then shall your light rise in the darkness and your gloom be as the noonday. – Isaiah 58:10
As you know by now, too much is never enough; thanks in advance for your thoughtfulness.
Click here if you have questions regarding the Old First Pantry.