Jabe's Ziino's Inspiring Spiritual Search
"There is a rich tradition in the Bible of really questioning God," says our seminarian intern Jabe Ziino. "I find a lot of value there, knowing that it's okay to not know everything. I think that's where our experience in faith can really be very powerful for us."
Jabe recently completed his first year at Princeton Seminary (with two more years to go). He's heading back to school in the fall; in the meantime, we're fortunate to have him share his faith and worldview during Sunday sermons this summer.
"One of the things I love about preaching is being able to engage deeply with texts and to find meaning and relevance for our lives," he says.
Jabe grew up in Massachusetts, and earned degrees in English and Biology at MIT. Before we get to further know him, let's understand the origin of his first name, which is as unique as Jabe himself.
Dutch? Biblical? New Age?
"My parents made it up," he says. "They wanted all their kids to have unusual names. It was kind of annoying as a kid, but I've come to really appreciate its uniqueness."
(Here's Jabe at Yellowstone National Park!)
Uniqueness is also an appropriate description of his life story and spiritual quest. He was raised in the controversial Unification Church, which his parents joined in the 1970s. It was founded by Reverend Sun Myung Moon, and its members were called Moonies by the news media.
"Some people call it a cult," Jabe says. "My parents made a pretty radical choice. They left the work they were doing because they found this calling. They experienced a new life, a new beginning, almost like a rebirth, a huge conversion experience. They raised me and my three siblings in this church. It's based on Christianity and it uses the Bible as part of its text, but with a lot of new ideas in addition to traditional Christianity. It's rooted in Christianity but it has a lot of doctrinal disagreements with Christianity."
His childhood was solid, suburban and stable; he loved his parents and siblings, valued his community, and calls his upbringing "normal and integrated;" he attended public schools. Still, not all was well — or agreeable.
"I had a strong belief in God, but I had a hard time committing to the Unification Church as the way for me," he says.
Part of the dilemma: being gay, which is not accepted or tolerated in the Unification Church. His friends and siblings were supportive, but his coming out was tough on his parents.
"It threw a wrench into their whole belief system," he says. "They were not at all prepared for the reality that one of their kids might be gay. I spent a lot of years of my life putting up a screen about who I actually was. I'm done doing that. It makes me happy to be able to be honest."
As we know, the Lord works in mysterious ways. This upbringing led Jabe to consider and reconsider every value and lesson he was taught. The pushback is what actually began his own evolution.
"I was questioning everything," he says, "because I was always told what to believe by someone else. I needed a process to figure out what I believed in, what was true. I really went to the core and said, 'I'm not going to take anything for granted anymore, and I'm not going to assume or that it's a given that God exists or the Bible is true.' So I spent a couple years adrift. I think in the long run, it was a good thing, but it was painful and confusing at the time. I felt very unrooted."
After school, the career search coincided with Jabe's search for meaning. He moved to the Bay Area and worked in tech/nonprofit, then taught school in New York.
"It took me about three years to realize that I didn't like doing office and computer work," he says. "I went to college not with a clear sense of what I wanted to do. It took me about five years to realize that I want to pursue ministry, and work with people in the context of faith."
What helped sway his decision: a small Episcopal church in Berkeley, California.
"Something really draws me to the Episcopal style of worship," he says. "I didn't grow up in a faith community where it was OK to be gay. It was not something that was affirmed and welcomed and loved. The Episcopal church in America has been in the forefront of welcoming LGBT people. I felt drawn to their liturgical style of worship. It feels really connected to the ancient traditions of Christianity. I've never been a fan of the contemporary praise and worship style. And I loved the community there as well. It was a really small church — maybe 20 people on an average Sunday, but it was really intimate."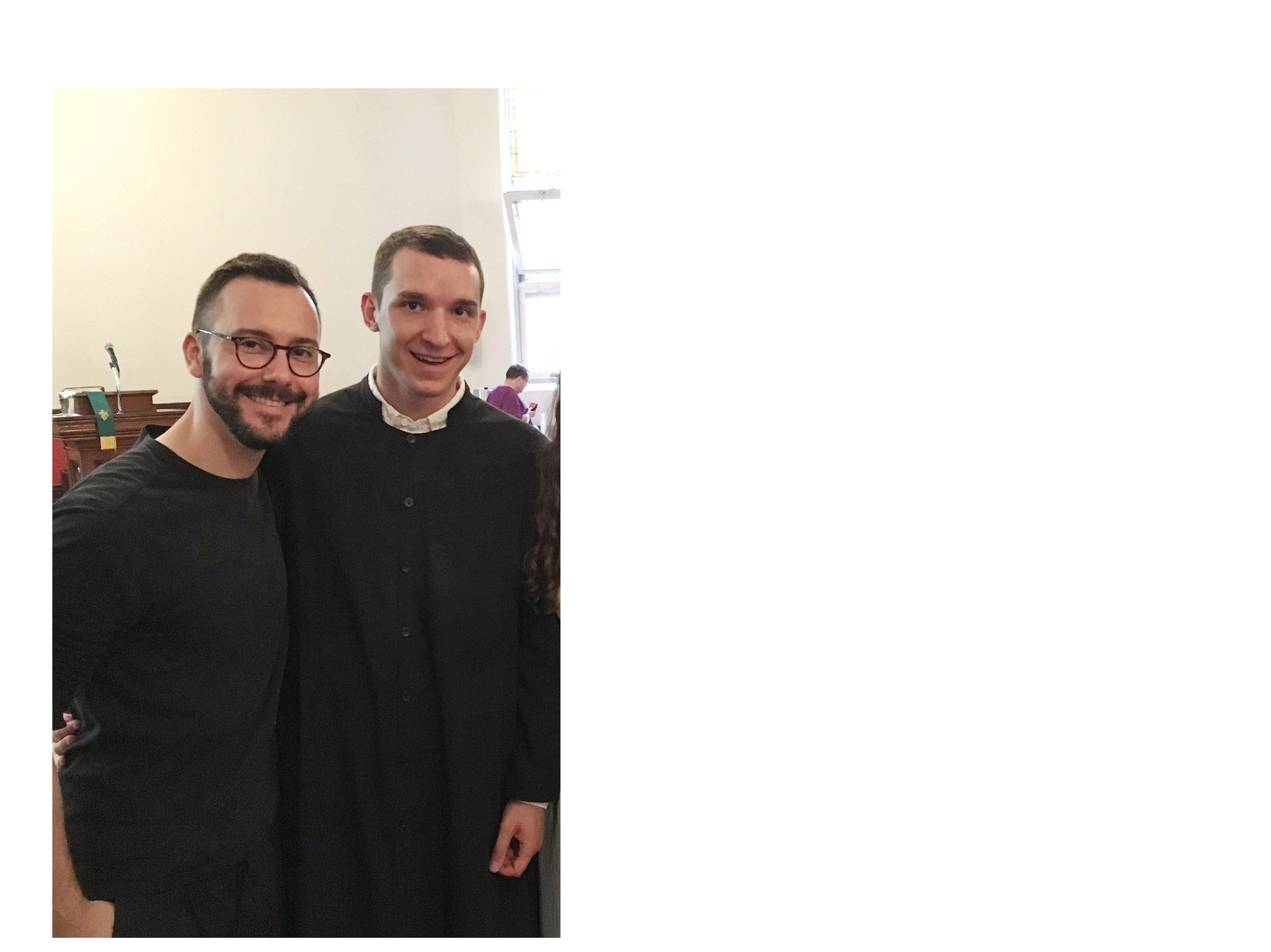 About three years ago, Jabe came to Brooklyn with his partner, Tom. Like so many others before him, Old First's iconic steeple called him.
"I came here one Sunday morning and just felt immediately comfortable and welcomed in the space," he says. "I found myself coming back, and the longer I've been here, the more I wanted to become part of the community."
What he liked about Old First is what he liked about his church in Berkeley.
He says, "A lot of things about this community reminded me of that [Episcopal] church: the liturgical style of worship, and love for the ancient creeds and traditions. I know Pastor Meeter uses the Anglican book of common prayer, which inspires some of his liturgy in the worship. It felt like a good fit."
Pastor Daniel Meeter has had a long track record of allowing and encouraging seminarian interns the space they need to grow, and Jabe benefits from this.
"Daniel's been a great mentor," he says. "He gives me feedback on my sermons, and on my reflections and my other responsibilities. He's struck a really good balance between giving me the freedom to venture out on my own and to make mistakes. He's also given me a lot of freedom with the worship service. And, at the same time, he has a good sense of when to give advice, when to give pointers and suggestions, and when to give positive and negative feedback. It's been really good working with him."
Jabe plans to remain here at Old First for at least two more years, while he commutes to Princeton Seminary. Next year, he'll be interning at First Presbyterian Church in Brooklyn Heights.
"It's a really beautiful, diverse, welcoming church," he says of his future internship location.
Jabe credits his spiritual journey — and its difficult, challenging road — to his finding the courage to question.
"It was really hard and painful, but I'm so glad I went through it," he says."I feel like I have a much stronger faith on this other side, having gone through the process of even questioning God's existence. For me, that's key: the freedom to ask questions, to doubt, to question what we believe. I really came to believe that Jesus Christ offers us the truth of God and the truth of who God is, and to put ourselves in the right relationship with God. I'm still learning what all that means."
We're grateful to Jabe for leading the worship service and small groups, for his inspiring sermons, and for his help with the respite shelter this summer.
"I think community is a huge part of what following Christ is all about," he says. "The structure of your beliefs is important, but a lot of what Jesus preaches is about having the right relationships with other people, and with God."
Click here to get in touch with Jabe.