Building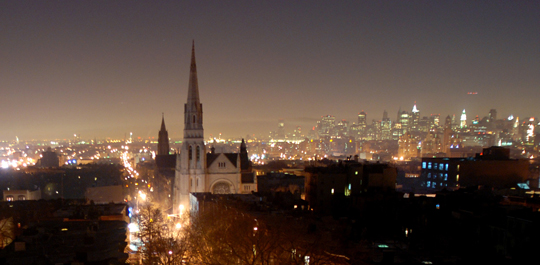 Dedicated in 1981, the towering cathedral we now use for worship is a Neo-Gothic structure, accented by dramatic stained-glass windows and a solid granite foundation. The spiral, which can be seen for miles, is made of Indiana limestone (as is the facade itself).
The structure was designed by the legendary architect George L. Morse, who designed churches as well as offices and homes all along the Northeast.
Curiously, it seemed that Morse preferred odd numbers: in most of his work, he favors either one tower or three (never two). Old First has only one tower, placed in a corner. That may be a result of Morse's taste for asymmetry (or his taste for things being centered, depending on where you are standing), as a corner anchor or visual focus. No matter if the theory is true or not, the tower cannot be missed.
According to Joseph Korom's 2013 book, Skyscraper Facades of the Gilded Age: Fifty-One Extravagant Designs, 1875-1910, Morse is credited with single-handedly giving early Brooklyn a skyline of its own. As well as countless Brooklyn homes and offices that materialized as a result of his skill and imagination,  he also designed our sister church, Grace Reformed (hyperlink), in the Prospect Lefferts Garden neighborhood. Stylistically, it differs greatly from our church, but that goes to prove Morse's diverse ability.
Although much of Morse's work was razed during the modern-minded reign of New York city planner Robert Moses in the 1930s, our church was saved from urban renewal (and the wrecking ball) by concerned citizens. The idea of destroying Old First in the name of new condos or offices would be unthinkable today.