Hunger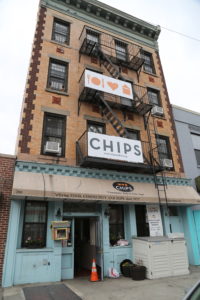 For over a decade, Old First has partnered with local soup kitchen and social service provider CHIPS. On the first Saturday of each month, volunteers meet to cook and deliver a meal to the CHIPS soup kitchen on Fourth Avenue. In addition, each year on the Sunday before Thanksgiving, we bring grocery bags full of food to donate to CHIPS.
CHIPS (Christian Help in Park Slope) was founded in 1971 and serves the hungry and homeless of Park Slope, through partnerships with local churches, synagogues, civic groups, and volunteers. CHIPS provides hot, nutritious meals, bagged lunches, and a food pantry in a caring and respectful environment, serving as many as 250 men and women daily. In addition to meals, CHIPS provides seasonal clothing, emergency pantry items, and shelter for young mothers and their children.
We welcome new volunteers to help us cook on the first Saturday of each month!  Please contact us for more information or to get involved.